Current Issue - Volume 86 | Number 1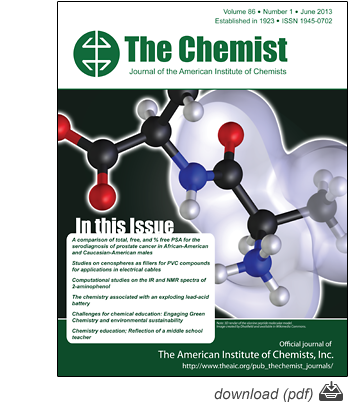 In this issue, Niki Judenary and co-authors are reporting a comparative study of the total, free, and % free prostate specific antigen in the serodiagnosis of prostate cancer in African-American and Caucasian-American males in the US.
B. R. Manjunath and co-authors evaluated Cenospheres as fillers for PVC compounds in electrical cable sheathing applications.
Abraham George and co-authors report a theoretical modeling of the geometry of 2-Aminophenol optimized using Hartee-Fock (HF) and density functional theory (DTF) methods with the support of the Gaussian 03™ software.
David Manuta describes the chemistry behind a litigation involving the explosion of a lead-acid automotive battery during testing with a battery tester and provides insights about some aspects of chemistry in real-world situations.
S. Baroni and B. Holmes point to the need for improving science and technology communication and education between the community of scientists and the general public in order to "create new research opportunities, facilitate broader education initiatives, and foster a more encouraging view of new discoveries."
John Hill and David Kumar address the challenges of chemical education and explores a sustainable chemistry philosophy and practice through green chemistry.
Joshua Strate reflects his experiences as middle school chemistry teacher and argues for making chemistry connections to other content areas as a win-win situation for improving interest in science among middle schoolers.

Table of Contents
i

ARTICLES

N. Judenari, T. Maywalt, G. S. Hendricks, J. T. Johnson, and M. Hall
1

B. R. Manjunath, P. Sadasivamurthy, P. V. Reddy, and K. R. Haridas

10


A. George, P. V. Thomas, and D. D. Kumar

15


D. M. Manuta

20


J. Hill, D. D. Kumar, and R. Verma

24


J. Strate

32

PUBLIC UNDERSTANDING OF CHEMISTRY

S. Baroni, and B. Holmes

35

37

38

39

40

41

43

ANNOUNCEMENTS

48

48

49

50