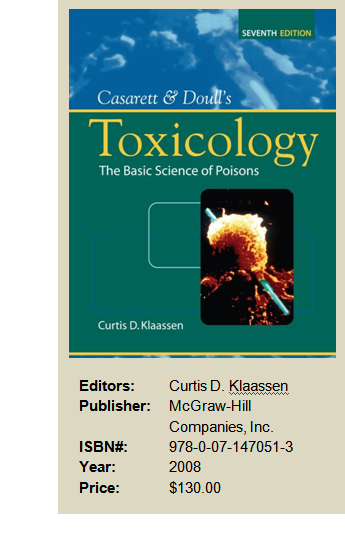 This is an outstanding and very thorough comprehensive textbook on toxicology. It will serve equally well as a reference book or textbook for graduate students.
The 7th edition offers references from the internet as well as from traditional books and journals. It also offers expanded information from molecular biology, oncology, environmental health, risk assessment, and the myriad of new laboratory techniques. This excellent text has 1 editor, 73 contributing authors, 1236 pages, numerous tables, figures, and photographs including medical imaging and karyotyping studies. In addition to the table of contents and the index, there is one appendix. It is arguably the most complete work of its type in the area of basic science toxicology.
Each of the 34 chapters has a chapter outline and its own list of references (approximately 50-250 per chapter). The book is divided into seven parts:
general principles of toxicology,
disposition of toxicants,
non-organ-directed toxicity,
target organ toxicity,
toxic agents,
environmental toxicology, and
applications of toxicology.
Unit (part) one includes 4 chapters detailing basic principles of toxicology and toxicological testing. It includes the history of toxicology, general principles of toxicology (e.g., classes of toxicants with spectrum of undesired effects, tolerance, dose response, descriptive animal toxicity tests, etc.), mechanisms of toxicology, and risk assessment. Unit two consists of 3 chapters detailing 1) the absorption, distribution and excretion of toxicants, 2) the biotransformation of xenobiotics, and 3) toxicokinetics. Unit three consists of three chapters including 1) chemical carcinogenesis, 2) genetic toxicology, and 3) developmental toxicology. Unit four has eleven chapters detailing the toxic responses of : 1) blood, 2) the immune system, 3) the liver, 4) the kidney, 5) the respiratory system, 6) the nervous system, 7) the ocular and visual system, 8) the heart and vascular system, 9) the skin, 10) the reproductive system, and 11) the endocrine system. Unit five has six chapters describing the toxic effects of toxic agents including: 1) pesticides, 2) metals, 3) solvents and vapors, 4) radiation and radioactive agents, 5) animal venoms and poisons, and 6) plants. Unit six has only two chapters, one on air pollution and one on ecotoxicology. Unit seven contains five chapters describing applications of toxicology including: 1) food toxicology, 2) analytic and forensic toxicology, 3) clinical toxicology, 4) occupational toxicology, and 5) regulatory toxicology. The book has an appendix on recommended limits for occupational exposure to chemicals.
Overall, this book is an authoritative work that will prove exceptionally useful to practicing toxicologists, researchers, and graduate students. A particularly nice feature is the inclusion of short descriptions of the scientific research data/design from which toxicological information was obtained. There is a great deal of depth and detail in each chapter and thus the book can also serve as a reference for the toxicology laboratory. One drawback is the lack of a glossary of terms. The book is most highly recommended for any laboratory involved in toxicological studies and for a graduate (500-600) survey course in toxicology.