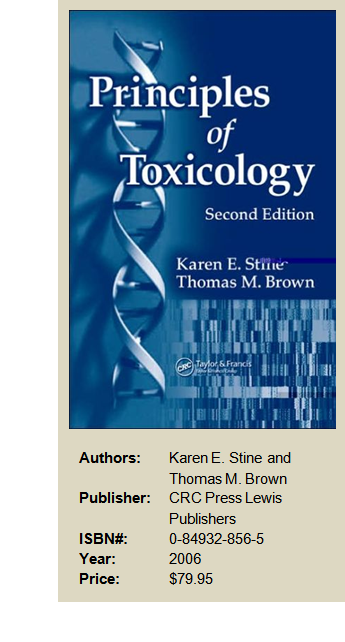 This is an excellent small/short book on toxicology. It evolved from an introductory course which the authors taught at Clemson University. It will serve nicely as a course outline or companion book/textbook for an undergraduate toxicology course.
The book has three especially useful features: 1) extensive cross listing to help the student quickly locate related subject matter, 2) an appendix with a list of selected toxicants including their structures, chemical formulas, physical properties, sources, uses, and toxicity, and 3) a brief summary of important physiology introductory to each chapter to prepare the reader/student for the significance of the toxicological information presented in that chapter.
This textbook has 2 authors, 259 pages, and numerous figures. In addition to the table of contents and the index, there is one appendix and numerous inserts listing page numbers of cross-listed material. Each of the 16 chapters has a list of references (~5-30 per chapter). The book is organized into chapters describing sub-cellular (molecular) toxicity, followed by chapters on cellular, physiological, and environmental/ecological toxicity. Major topics covered in the textbook include:
Measuring toxicity and assessing risk,
Toxicokinetics,
Biotransformation,
Cellular sites of action,
Carcinogenesis,
Reproductive toxicology and teratology,
Respiratory toxicology,
Cardiovascular toxicology,
Neurotoxicology,
Hepatic toxicology,
Renal toxicology,
Immunotoxicology,
Ecological toxicology,
Air pollution,
Water pollution, and
Toxic wastes.
Overall, this book is an easy read which will be especially appreciated by undergraduate students. There is no glossary of terms but key terms and concepts are italicized in the text to draw the student's attention to them. The book is recommended for an undergraduate survey course.