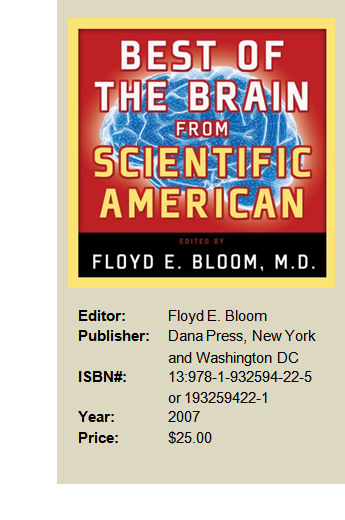 This is a nice little neuroscience book with a futuristic twist. Fully one third of the book is directed at future uses and treatments of the brain. The book has 31 contributing authors, 270 pages, numerous figures and color pictures, a table of contents, 21 chapters divided into three sections, and an index. Each chapter has a short bibliography for further reading on the topic and a very short overview of the chapter's author(s). One appendix includes a list of other books and periodicals on this topic and a list of free resources for teachers who wish to introduce the subject of the brain into their class curriculum. Section 1 (Mind) includes six chapters: Unleashing Creativity, Stimulating the Brain, Freud Returns, The Neurobiology of the Self, How the Brain Creates the Mind, and The New Science of Mind.
Section 2 (Matter) has nine chapters including: Vision: A Window on Consciousness, Rethinking the 'Lesser Brain', Sign Language in the Brain, Hunting for Answers, Brain-Repair Yourself, Diagnosing Disorders, The Addicted Brain, Decoding Schizophrenia, and Turning Off Depression.
Section 3 (Tomorrow's Brain) includes 6 chapters: Treating Depression-Pills or Talk, The Coming Merging of Mind and Machine, Controlling Robots with the Mind, Thinking Out Loud, Neuromorphic Microchips, and The Quest for a Smart Pill.
This book proved most provocative in two ways. First, it defined parallels between the chemistry of certain drugs and chemicals of abuse and the neurochemical pathways affected with the neurochemistry of schizophrenia and other mental disorders. Next, it gave a simple look at how electronic microchips and computers can control and/or be controlled by the nervous systems of people. The robot is no longer mere science fiction.
The strength of this book lies in its brevity and simplicity. The editor has minimized the details while maximizing the images (word and picture) which convey understanding. He points the reader toward tomorrow's neurochemical and pharmacological breakthroughs.