Current Issue - Volume 88 | Number 2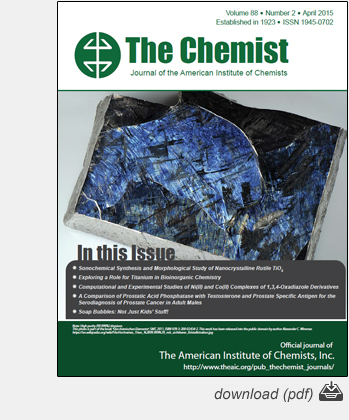 A section in this issue of The Chemist is dedicated to the titanium element. Manayil Valappil Swapna and Karikal R. Haridas report research on a simple, inexpensive method for the low-temperature synthesis of phase-pure nanocrystalline rutile titanium dioxide. Ann M. Valentine describes how she has been exploring a possible biological role for titanium since her first year of graduate school.
In addition to the previous articles, there are contributions from others. For example, Hannah Rice, and co-authors report a study comparing the diagnostic efficacy of three tumor markers (prostatic acid phosphate [PAP], testosterone [T], and prostate specific antigen [PSA] for serodiagnosis of prostate cancer.
In the Public Understanding of Chemistry section, W. Jeffrey Hurst presents communicating science, a very important topic that scientists need to be aware of. D. D. Kumar discusses a high tech weather-related application of soap bubbles. Sarah Reisert takes a historical look at The AIC Awards Program and provides a comprehensive list of winners that includes Nobel Laureates. Teri W. Odom writes "How to Remove Bias from Peer Review."
Table of Contents

David Devraj Kumar

i

ARTICLES

Manayil Valappil Swapna and Karickal R. Haridas
1

Ann M. Valentine

7


Asraf V. Mohamed A. M. A. Khader P. S. Arun, Yohannan Panicker and T. K. Manojkumar

11


Hannah Rice, Annie Chu, James T. Johnson, Margot Hall

19

PUBLIC UNDERSTANDING OF CHEMISTRY

W. Jeffrey Hurst

26


Sarah Reisert

28


Teri W. Odom

34


David Devraj Kumar

36

38

40

ANNOUNCEMENTS

45