Current Issue - Volume 88 | Number 1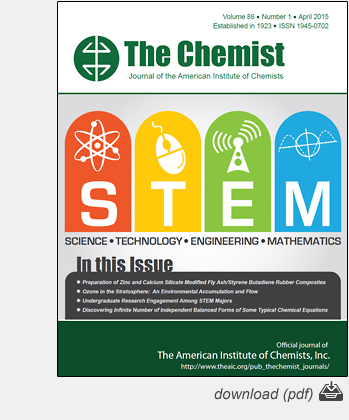 A section in this issue of The Chemist is dedicated to the theme of improving Science, Technology, Engineering and Mathematics (STEM) research and education with a goal for increasing STEM workforce. This is an important topic, since parents, and society in general, ask for better STEM education in our schools and colleges.
In addition to the themed section on STEM, there are contributions from others. For example, M. T. Ramesan and co-authors, report a research on surface modified fly ash (styrene butadiene) rubber composites as reinforcing fillers based on the cure, morphology and crystalline nature, thermal, flame and mechanical properties. Ronald Persin presents an interesting approach to derive a set of differential equations contributing to the understanding of the formation of ozone layers in the stratosphere. Susan Losh and Brandon Nzekwe examine how aspects of researcher identity and attitudes of STEM majors affect their awareness of university research opportunities, interest and involvement, Pramode Ranjan Bhattacharjee reports a novel algebraic approach to discovering infinite number of independent balanced forms of chemical equations. 
Table of Contents
i

ARTICLES

M. T Ramesan, V. C. Jasna, Joseph Francis, Abdu Raheem V. P. and Subburaj M.
1

Ronald C. Persin

7


Susan Carol Losh, and Brandon J. O. Nzekwe

13


Pramode Ranjan Bhattacharjee

26

PUBLIC UNDERSTANDING OF CHEMISTRY

Reprinted with permission from the Department of Professional Employees, AFL-CIO

34

44

46

48

ANNOUNCEMENTS

53

54