Current Issue - Volume 87 | Number 1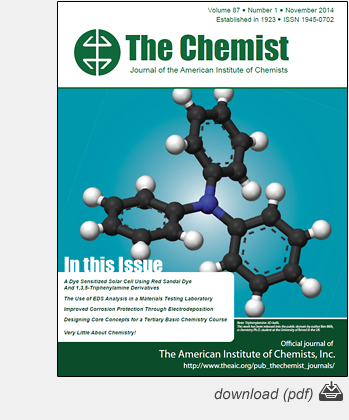 In this issue, Siji Mathew and Karickal Haridas report the fabrication of dye-sensitized solar cells using 1,3,5-triphenylamine derivatives. These materials are environment-friendly and suitable candidates as hole transporting materials (HTM) for solar cells and solar cell devices.
Frank Gate describes the use of Energy Dispersive spectroscopy (EDS) in materials testing, especially useful for detecting basic corrosions in materials.
John Hill and co-authors propose a curriculum framework for a tertiary basic chemistry course design based on Atkins' interrelated core chemical concepts aimed at triggering student interest in pursuing chemistry.
Susan Day, under the title, "Very Little About Chemistry!" discusses how her appreciation for chemistry has grown in recent years since chemistry has become more important to her "livelihood," though her terminal degree is in public administration.
Table of Contents
i

ARTICLES

Siji Mathew and Karickal R. Haridas
1

Frank Grate

8


George E. F. Brewer

11


John O. Hill, David Devraj Kumar and Ranjit K. Verma

14

PUBLIC UNDERSTANDING OF CHEMISTRY

Susan Day

23

Nanophysics and Nanotechnology

26

Brain: The Complete Mind

27

Casarett & Doull's Essentials of Toxicology. Edition 2

28

LONGTIME FELLOWS OF THE AIC

29

30

32

34

ANNOUNCEMENTS

39

40