Volume 85 | Number 1 & 2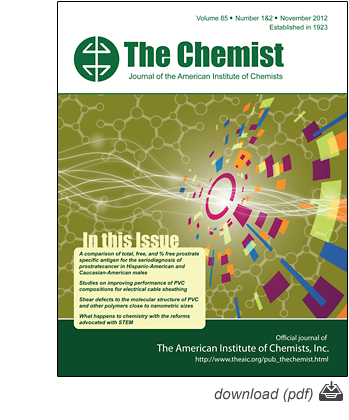 In this issue, Tori Maywalt and co-authors are reporting a research study comparing the total, free, and % free prostate specific antigen in the serodiagnosis of prostate cancer in Hispanic-American and Caucasian-American males in the United States.
The study by B. R. Manjunath and co-authors deals with the preparation and testing of polyvinyl chloride compositions containing different amounts of additives for flame-retardant low-smoke electrical cable sheathing applications.
David W. Riley is presenting a series of analyses of shear defects to the molecular structure of polyvinyl chloride and other polymers close to nanometric sizes in extrusion engineering. R. E. Yager is challenging people to think about the status of chemistry as an education discipline in the wake of the nanotechnology revolution and the new focus on STEM research and teaching.
Finally, the reprinted (with permission) editorial from the C&E News "Chemical News Blunder, Powering Up with Cotton" by L. E. Wolf, appearing in the Public Understanding of Chemistry section, raises eyebrows about the way chemistry is occasionally, if not often, being portrayed in the media. The variety of articles in this issue should give the readership some impetus to think about the role of chemistry in shaping their thoughts and lives.

Table of Contents
i

ARTICLES

T. Maywalt, N. Judenary, G. S. Hendricks, J. T. Johnson, and M. Hall
1

B. R. Manjunath, P. Sadasivamurthy, P. V. Reddy, and K. R. Haridas

11


D. W. Riley

14


R. Yager

22

PUBLIC UNDERSTANDING OF CHEMISTRY

L. K. Wolf ©2010 ACS

24

25

26

27

28

30

32

ANNOUNCEMENTS

37

37

38

39