Current Issue - Volume 87 | Number 2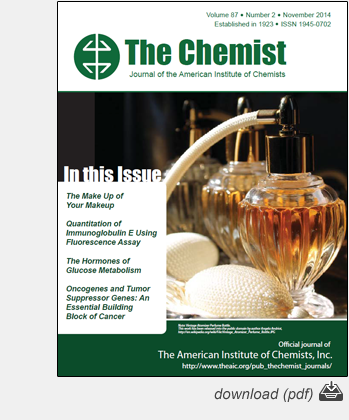 A section in this issue of The Chemist is dedicated to the theme "Clinical Chemistry" edited by Dr. Margot Hall. Dr. Hall was kind enough to solicit manuscripts for this themed section, as well as doing all the hard work associated with the process of editing it. For a summary of the manuscripts in this section, I encourage you to read the guest editorial by Dr. Hall in this issue of the journal.
In addition to the themed section on Clinical Chemistry, there are contributions from others. Bethany Davis describes a thought provoking way to encourage the participation of girls in chemistry through exploring the chemistry of makeup. She was invited to write this piece in The Chemist based upon her well-known outreach efforts to promote chemistry among girls in schools and colleges. Encouraging the participation of women in general in the sciences is a national priority. On the other topics, Leah Eller presents a review of the book Organic Structure Analysis (second edition), and Kenneth Abate reviews the book Metal-Polymer Nanocomposites. Finally, a friend of chemistry, Dr. P. V. Thomas is recognized.
Table of Contents
i

ii

ARTICLES

W. Adam Shirley, Cynthia Handley, Sabrina Bryant and Margot Hall
1

Tammy Shaw, Cynthia Handley and Margot Hall

8


Hannah Rice, Sabrina Bryant, Cynthia Handley and Margot Hall

15


Erika Leah Harmon Pratte, Sabrina Bryant, Cynthia Handley and Margot Hall

19

PUBLIC UNDERSTANDING OF CHEMISTRY

Bethany Davis

30

34

35

A FRIEND OF CHEMISTRY

37

38

40

ANNOUNCEMENTS

45

46