Current Issue - Volume 86 | Number 2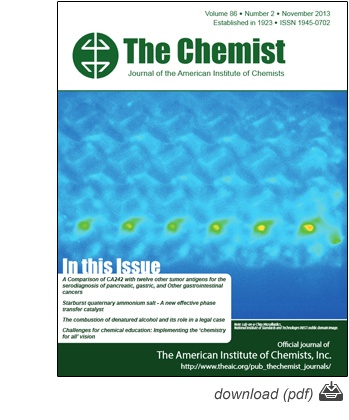 In this issue, Niki Judenary and co-authors are reporting a comparative study of the total, free, and % free prostate specific antigen in the serodiagnosis of prostate cancer in African-American and Caucasian-American males in the US. Their study sheds light on some aspects of prostate cancer providing insight for additional research on this leading non-skin related cancer in men.
B. R. Manjunath and co-authors evaluated Cenospheres as fillers for PVC compounds in electrical cable sheathing applications.
Abraham George and co-authors report a theoretical modeling of the geometry of 2-Aminophenol optimized using Hartee-Fock (HF) and density functional theory (DTF) methods with the support of the Gaussian 03™ software.
David Manuta describes the chemistry behind a litigation involving the explosion of a lead-acid automotive battery during testing with a battery tester and provides insights about some aspects of chemistry in real-world situations.
S. Baroni and B. Holmes point to the need for improving science and technology communication and education between the community of scientists and the general public in order to "create new research opportunities, facilitate broader education initiatives, and foster a more encouraging view of new discoveries."
John Hill and co-authors address the challenges of chemical education and explores a sustainable chemistry philosophy and practice through green chemistry.
Table of Contents
i

ARTICLES

Margot Hall, Sabrina Bryant, Margaret Jackson, James T. Johnson, Harold Schultze,
Wileen Cooksey, Slobodanka D. Manceva, Rasheeda Crowell, Sharae Johnson,
Tammy Sims-Davis, Kevin L. Beason, Shawn R. Clinton, Deborah Fortenberry, Cynthia Bright,
Helen Hua, Jiarong Ying, and Paul Sykes
1

Divia N, Siji Mathew, T.D.R. Nair and Karickal R. Haridas

17


David M. Manuta

23


John Hill and David Devraj Kumar

27

PUBLIC UNDERSTANDING OF CHEMISTRY

James S. Smith

33


Sue Rao

35


Kim Cavendish and Madelyn Reus

38

Goldfrank's Toxicologic Emergencies (9th Edition)

41

Lehninger Principles of Biochemistry 6th Edition- Instructor's Resource DVD

43

44

46

ANNOUNCEMENTS

51

52